'A story of two friends that gives an extraordinary perspective on what we can do about suicide'
---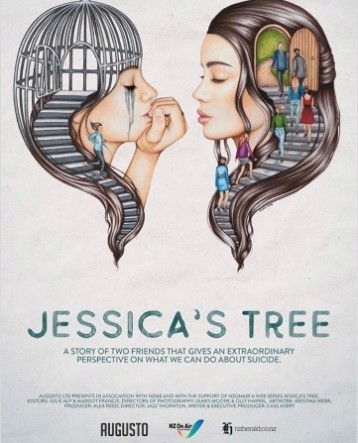 Jessica's Tree is a 5-part series that was released in March 2019 about the story of Jess, a young person who died by suicide in 2015 while living in Auckland, New Zealand.  It gives a very personal view of what it is like to be suicidal.  The series is directed by Jazz Thornton from Voices of Hope - www.thevoicesofhope.org  who was friends with Jess and has also had her own struggles with suicide.  Jazz interviews a group of people who came together over the last 24 hours of Jess's life (Dad, Step-Mum, teacher, brother, friends).  The aim of the series is to build a bridge between those who are suicidal and those around them who can help. It is an insightful and revealing story about what suicide looks like from the inside, from someone looking back out at those wanting to help.
The team creating Jessica's Tree have consulted numerous professionals in the mental health field in seeking feedback on the desire for this series to be a helpful and useful tool for people to have a greater understanding of suicide.  It is seen as a series that gives a greater understanding of suicide, dispels some of the myths about suicide, and demonstrates that everyone in society has a role to play. 
Jessica's Tree has already had an impact nationally and internationally with already being nominated and awarded several awards such as "Best Story Telling" at A Show for Change in America. 
Things to be mindful of:
Whenever the topic of suicide is discussed there are times when this may increase your own distress or another viewer's distress. 
With this in mind; below are a list of contact numbers that may be helpful to use for support:
Free call or text 1737 any time, 24 hours a day. Talk to (or text with) a trained counsellor.
Lifeline (0800 111 777)
Samaritans (0800 726 666)
Youthline (0800 376 633)
Kidsline (aimed at children up to 14 years old) 0800 543 754
Suicide Prevention Hotline 0508 828 865
the Depression helpline (0800 111 757)
Healthline (0800 611 116)
Here is a link to some skills to help manage high levels of distress until they pass  http://zeal.nz/blog/5-amazingly-simple-ways-to-calm-down-that-actually-work.
For adults, Jessica's Tree provides an opportunity to have a conversation with young people about suicide.  Connecting Through Korero  is a great resource about how to have a conversation about suicide with a young person. 
Where it can be viewed:
Website: www.jessicastree.com 
Facebook - https://www.facebook.com/jessicastreeseries
Instagram - https://www.instagram.com/jessicas_tree
- Bex Kawana, Clinical Advisor for Towards Wellbeing